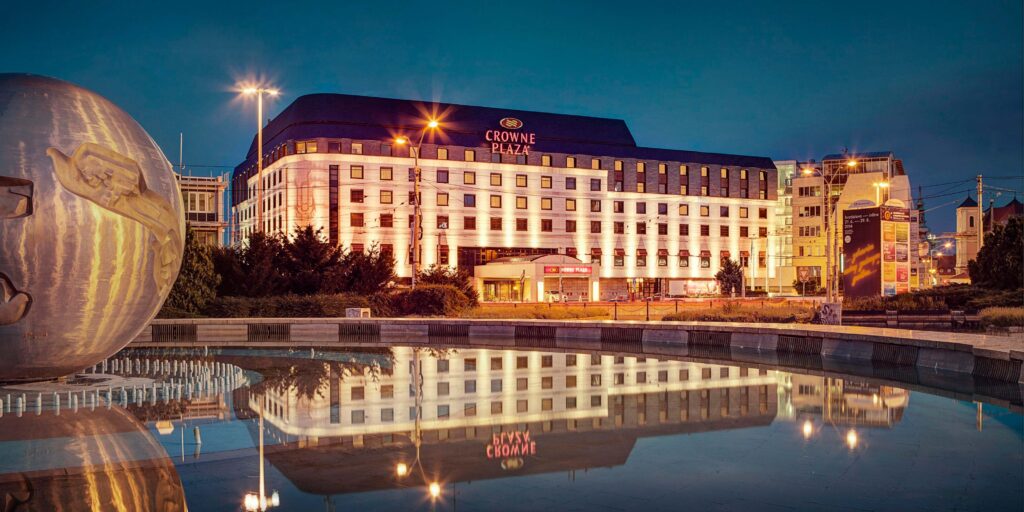 Situated in the historical city center – opposite the Presidential Palace and only a few minutes walking distance from the famous Bratislava Castle.
Crowne Plaza Hotel could be reached in 15-minute's drive from Bratislava International Airport and 35 minute's drive from Vienna International Airport. Bratislava's main train station is within 5-minute drive.
All rooms and suites are air-conditioned, offer free tea and coffee making facilities. Guests can enjoy free entry to the hotel`s fitness center. High-speed WiFi is available complementary throughout the hotel.
Guests can enjoy an American buffet breakfast in Fresh! Restaurant or on the summer terrace. Á la carte menu is based on gluten-free meals of classical and international cuisine. Guests can also relax at the Plaza Bar, which provides hot & cold bar classic meals along with Fresh!
Excellent location – Hodzovo Namestie 2, 81625 Bratislava, Slovakia. Show map
Most popular facilities ♦ Private Parking; ♦ Free WiFi; ♦ Family rooms; ♦ Non-smoking rooms; ♦ Airport shuttle; ♦ Fitness center; ♦ Restaurant
The hotel offers 224 comfortable guest rooms including 15 suites. Modern design and well-equipped rooms offer our guest the best stay and quality of sleeping according to the brand defining Sleep Advantage Program. All rooms and suites are fully equipped with the latest technology and free high speed Internet access.
Check-in is from 15:00, and check-out is up to 11:00. Late check-out is also possible. The hotel reception desk works 24/7.
Conference rooms & Restaurant
How to get to Bratislava?
The closest big international airport is Swechat (Vienna International
Airport). There is a direct bus connection between the airport and the city (Regiojet, Slovak Lines, Flixbus). It takes about 55 minutes, it drives quite often, every hour. The last bus is 22:15. Taxi costs about 50 euros.
Contacts
E-mail: info@cpbratislava.sk
Phone: +421 2 5934 8111 Fax: +421 2 5441 4645
Reservations E-mail: reservation@cpbratislava.sk
Phone: +421 2 5934 8111 Central Reservation Office: +1 877 834 3613